---
Here at garage company we specialize in
customs, services and repairs
Click here for more info!
Come check out our shop at 956 W. Hyde Park Blvd, Inglewood CA 90302.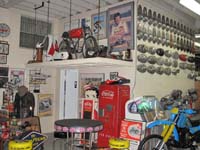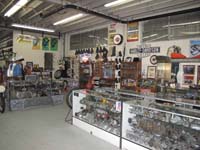 Now Hiring: Garage Company is looking for an experienced vintage motorcycle mechanic.
Please call Yoshi at 310 330 9933 for more information.
In the Press: Check out a great Garage Company pictorial in Hell for Leather magazine!
Check out the born free party pictures: Born Free party pictures
More Born Free party pictures!
Born Free Blog
Click here for video's of the Born Free Riders/Event

1942 Crocker
Latest arrivals:

We now carry Vanson Leathers! Click Here to Purchase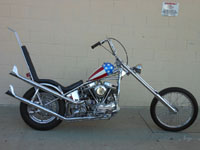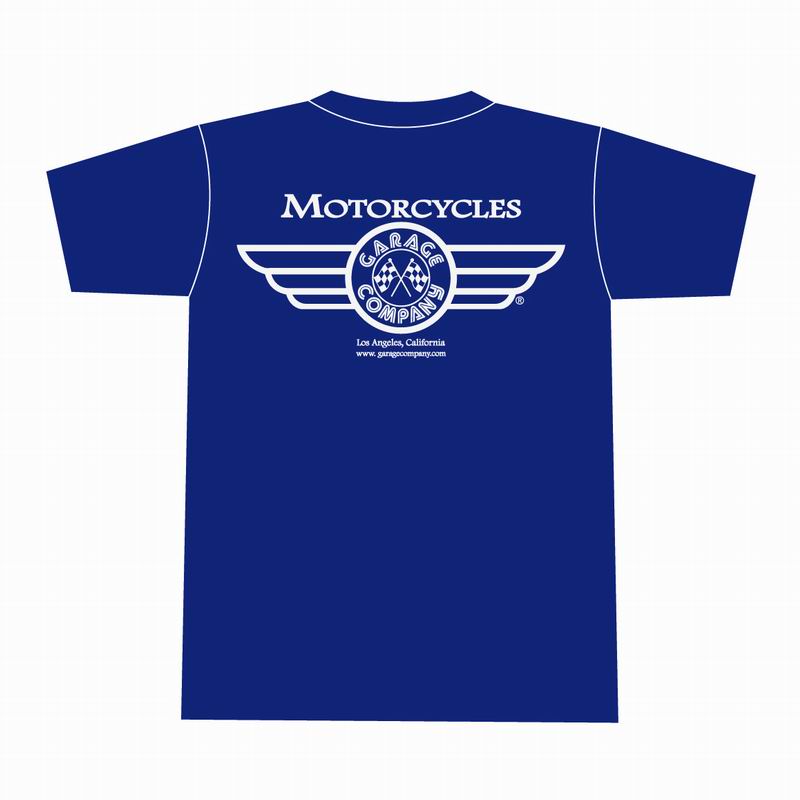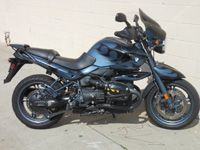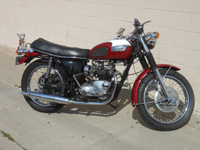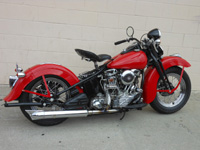 SERVICE DEPARTMENT
Garage Company Built all type of customize modification, Custom paint, also does
maintenance and repair of any vintage motorcycle, from tune ups and tire changes
to complete restorations and engine rebuilding.
Harley Davidsons! We'd like to welcome Marty to our team of specialists.
Marty work STD for over 10 years build engines and bikes.
Fabrication and Paint by Targino

Garage Company Builds California Bobber for Michael Schumacher!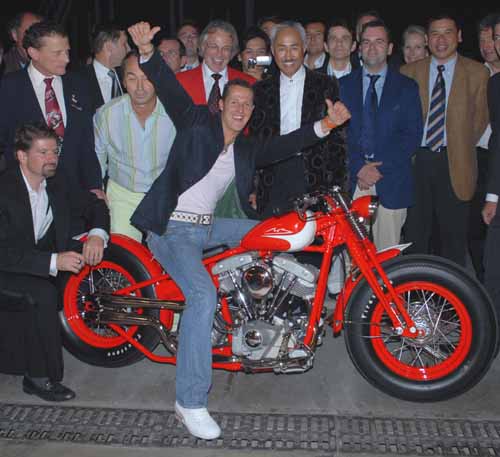 It was our honor and great pleasure to build this very special bike for Michael Schumacher on the occasion of his retirement from Formula One racing as a gift from the Ferrari Corsa Clienti in Monza Italy on October 28th, 2006.

Garage Company is kind of like a museum where you can buy almost everything. This website is just a sampler, say, of the gift shop. We have hundreds of things to sell or maybe just look at that we haven't put on this website (yet).
First and foremost, we have a nice collection of pristine condition bikes for sale. We also stock a huge collection of books and manuals about them, as well as videos, including a number of exclusive videos of vintage footage you'd be hard pressed to find anywhere else. Our memorabilia includes antique motorcycle postcards, vintage motorcycle signs and posters and even rubber stamps.
Also, we'd like you to check out our collection of correct restoration decals and transfers for the finishing touches on your restoration project. Many are in fact NOS so when you do get a real varnish transfer, please be sure to read the varnish decal application instructions.
We also carry a wide range of t-shirts with your favorite vintage marquee logos. At this time we are also offering a number or rare NOS collectible helmets, as well as new traditional "puddin' bowl" style Davida helmets, and of course goggles to match.
If you're really into the vintage bike racing scene, we hope you can attend our annual AHRMA race at Willow Springs - Corsa Motoclassica. Corsa 2010 was our 15th vintage race, bike show, and swap meet.
And finally, if you've never been here to our little shop you can read here a little bit about us, and maybe check our buy list (we give commissions and pay cash for whole inventories). And of course, once you're through perusing our little site, we hope you have time to browse on out to our links list.


Copyright (C) 2006 Garage Company, Inc. All Rights Reserved.