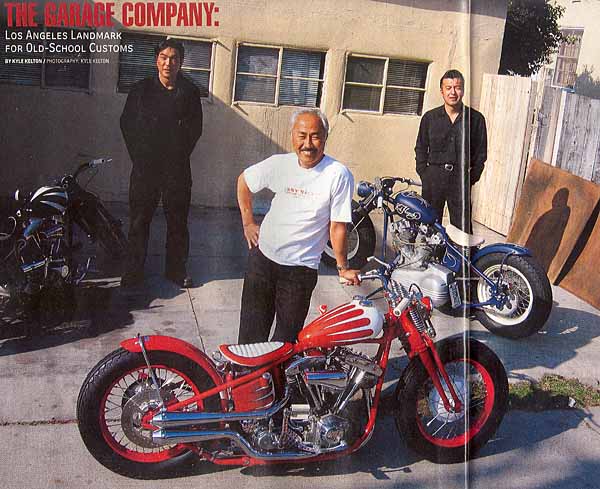 From an article by Kyle Kelton, Street Chopper Magazine, May 2005
THE FOLLOWING SCENE OCCURS AT LEAST ONCE A DAY AT THE GARAGE COMPANY, L.A.'s museum/vintage restoration/custom chopper/memorabilia/literature/apparel/collectibles emporium located on Washington Boulevard not far from the sun and surf of Venice Beach. The scene: A guy wearing a '50s-style black leather jacket enters the shop, takes one look around, and exclaims. "Wow!" His head swivels 360 degrees, the "Wow!" following him around as he takes in the panorama that includes a showroom floor glittering with vintage and classic Harleys, including a '68 KR-TT and a '28 JDC, as well as a small herd of Triumphs, BSAs, Nortons, Ducatis, MV Agustas, Bimotas, BMWs, and well, you name it. If it's got history and serious cool factor, you'll find it at the Garage Company.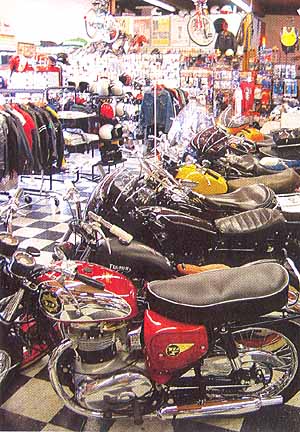 The Garage Company actually began long, long ago and far, far away, as in the early '70s and in Japan where a young dental appliance engineer, Yoshinobu "Yoshi" Kosaka, was starting to surround himself with all kinds of motorcycles. He didn't just collect them, he raced them as well. Then about 20 years ago he migrated to one of motorcycling's most fertile grounds, Southern California. While he took a major cut in pay as result, he still trolled for vintage bikes at swap meets, junkyards. and the classifieds. It was a time when the gas crisis conspired to lower prices on old bikes, so Yoshi took what money he could save and invested in metal. It was a good thing.
By 1986 he was racing in AHRMA events (earning a national title in 1993 in Formula 250), and a year later married Kyoko, his high school sweetheart. When she noticed his bikes were spilling out into their front yard, she came home with a key to small building where he could enjoy his hobby. Yes, once in a while the universe does create such an understanding wife. At this point Yoshi's hobby had gone a little bonkers - like 150 bikes. His weekends were spent wrenching and organizing his growing parts collection. Passerbys began dropping in, bikes started to get swapped. Since he didn't really want to sell his stuff, Yoshi and Kyoko instead printed up some Garage Company T-shirts for the visitors. They sold out. It was the handwriting on the wall so to speak and a business was born, including an eventual move to a new 5400-square-foot shop on Washington Boulevard.
While originally a source for British, European, American, and Japanese vintage, classic, and collectible motorcycles and parts, the shop's focus is now on old-school customs, mostly American but also a tasty Trumpet or Beezer hot rod now and then. Yoshi and the Garage Company crew began building custom bikes about four years ago and now have completed 20, each one distinctly different and now spread across the U.S., coast to coast.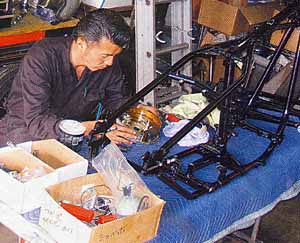 Both their restorations and custom bobbers are ground-up fabrications including the design and construction of their specialty frames that often incorporate gooseneck forward downtubes mated to hardtail rear sections. They're also partial to Springer frontends and using NOS and vintage accessories to add color, character, and flair to their one-off customs. If they can't find just the right component in their treasure trove of parts, they'll sit down and make one. But since Yoshi has squirreled away enough vintage stuff over the last two decades to outlast the oil reserves, he knows where to look. Those two guys in black, seen here rebuilding motors and piecing together vintage brake drums, don't seem to ever stop working, or eat or sleep. They don't say very much, don't take the government mandated 15 minutes breaks every 10 minutes, and obviously take great pride in their work. No loud music playing, no dogs running around, no distracting bags of potato chips. Yeah, it's pretty scary. But I guess you'd call it a focused work ethic. In other words, there's no long wait for your bike once you say go for it.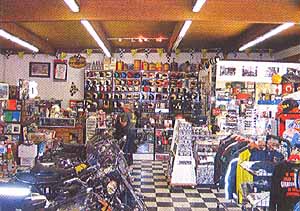 Inside the gallery or the retail section of the Garage Company, you learn the meaning of over- stimulation. Racks upon racks of hard-to-find motorcycle books, videos, magazines, manuals, posters, patches, original pamphlets, goggles, gloves, jackets, shirts, and a couple tons of hard parts literally spill onto the floor. It's like the ultimate vintage bike candy store - you just don't know where to start looking first. Even the customers are not your usual brand. One minute a guy comes in to buy the original tread design tire for his '57 Triumph, a minute later another guy's looking through a case full of Linkert carbs, while yet another is making up his mind over the '52 Indian Scout or the XR-framed Yankee Engenuity XLCR sitting on the showroom floor, Did we mention their collection of decals and transfers, itself a treasure trove?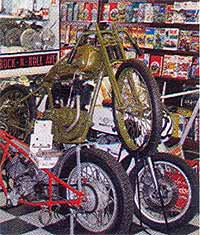 While he's busy building bikes, Yoshi takes time out each year to put together the Corsa Motoclassica, an enthusiast oriented bikefest and race venue held at the famous Willow Springs Racetrack in the high desert north of L.A. Scheduled for April, it attracts all manner and make of motorcycles from all over the U.S. and overseas for the three-day weekend of high speeds and high spirits. The vintage bike show brings out some rare machines, several debuted for the first time at the event. You'll see everything from 50cc to XXXcc competition machines and the men, and women, who race them.
Back home at the Garage Company, in addition to their high-end customs, they also offer classic econo-bobbers for around the $10-12,000. That's a complete bike with a whole lot of personality and rideability. Their high-end lineup of bikes is represented by the following three Shovelhead powered customs, the Red Racer, the Blue Bike, and the Drag Bike, each as different as fingerprint.
SEE SOMETHIN' YOU LIKE?
As for the Drag Bike, the Blue Bike, and the Red Racer, if you see what you like, the Garage Company can make more. Pick a motor - Knuckle, Panhead, Shovel, even Flathead or Evo - they can get it for you. If you're thinking of a bike, well, that's all it takes to set loose Yoshi's fertile imagination. "Just tell me old school, very low, drag race, or that you have a '57 T-Bird, some bit of information, and I can build you something unique."
---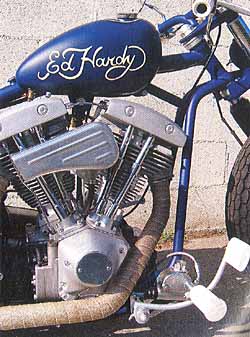 THE BLUE BIKE
As for the Blue Bike seen here with its Von Dutch-inspired pinstriping, Yoshi went for a totally old-school look, telling paintmeister Jim Murillo to hose it down with an unpaint scheme, going for a flat-blue matte approach as opposed to the standard shiny, blind- you-with pigment custom colors.
"We also sandblasted the motor, no polish, very dull, some flat aluminum paint, even the pinstriping is matte. Then we wanted to make it as low as possible. And to keep the vintage feel we gave it a kicker, and for days when you needed a button, we gave it an electric start."
Greatness, or coolness, is in the details, like the big Firestone muncher tires, the speedo in the head lamp bucket, and the colored coordinated Bobby Socks white grips/pegs/foot controls/sprung set combo to the Bonneville-style wrapped pipes.
---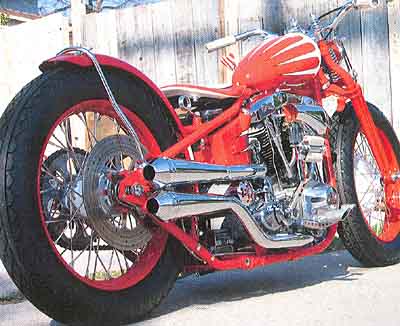 RED RACER
Inspired by the classic old-school bobber look of the '50s, the Garage Company's Red Racer mixes and matches a blend of parts but keeps the original frame, engine numbers, and title. Most of the bike is handmade from scratch including the jockey shift which is not a jockey shift or a tank shift, but something Yoshi calls a mid-shift. But you'd be in for a surprise if you try to downshift or upshift for that matter. It's a four speed, but don't try to find a gear with the drilled shift lever, all you'll get is a good beeping. No, Ozzie Osbourne's not here, but the shifter arm is connected to an electric horn. Seems the owner wanted the vintage look but preferred a standard foot shifter. The Garage Company gave him both and a unique horn button to boot.
While there's a vintage H-D K Model drum brake on the front wheel, the bike gets some updated stopping power via a rear PM disc setup, while the original Shovelhead 80-incher itself was treated to all new internals. And those pipes sing a song you'll not hear elsewhere. The Red Racer belongs to Christian Audigier, the owner of the Ed Hardy clothing on L.A.'s hip Melrose Ave. In fact, Christian owns two Garage Company customs, the Red Racer and the B lue Bike, both on display at his store.
---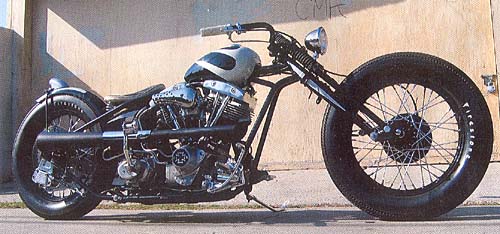 THE DRAG BIKE
Based around an '80 H-D 74ci stock motor that was rebuilt with new S&S internals, the Drag Bike, as it's simply called, gets its slingshot profile thanks to a hand built mix and match combination of a gooseneck front end and rigid tail.
The guys at the Garage Company in L.A. got their inspiration from vintage Bonneville racers - big fat tires, skinny profile. kicked out springer, high pipe, we don't-need-no-stinkin' fenders, kick-start only -- all of which produces the swept-back look of a '50s F-86 Sabre Jet on a strafing run. Asked what jump started the Drag Bike project, Yoshi laughs and says, "It all came out of my imagination. No drawings, no computer CADCAM. I wanted a skinny, racy look. We like the look of small gas tanks, rather than a larger tank that would be too bulky, so we took a '60s peanut gas tank, then chopped it to fit the bike." Asked how it felt to ride, Yoshi says, "With that big front tire, it's a bit heavy feeling at low speeds, but once you pass 40, it's very smooth and stable. Its owner, Mike Musial, is on it every weekend."
---